Sunbury Plantation House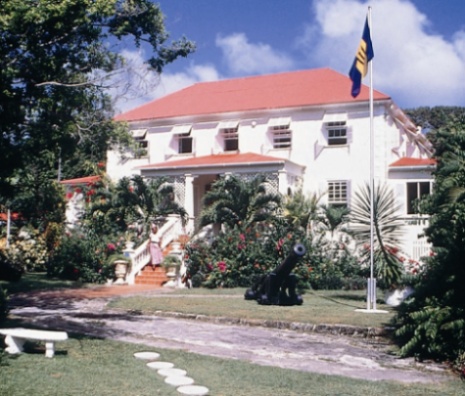 Sunbury Plantation House in St. Philip, is now a restaurant and museum and is completely open to the public.
The house was built in the 1600s by the Chapman family.  Almost at the end of the 16th century, it was sold to Nathaniel Branker who shared the plantation with his wife Ann. The Branker Plantation appears on a 1736 Barbados map.
In 1763, Elizabeth, the grand-daughter of the original owners, purchased the property with her husband, James Butler Harris.  There is a Bell House on the property today that was erected by James Butler Harris in 1766.
John & George Barrow became the new owners after the death of James Butler Harris. The Barrows also owned Edgecumbe, Hampton and Upton plantations. The Barrows renamed the plantation Sunbury after their home in England.
The Barrows planted the first teak tree and hundreds of mahogany trees on the Sunbury plantation. You can still see several of the mahogany trees on the property today.
The Barrows' Edgecumbe plantation received damage during the 1816 Bussa Uprising, which began at Bayleys plantation.
In 1835 Sunbury plantation was owned by the Daniel family, John and Thomas Daniel.  It is believed they purchased the property from the Barbados Chancery Court.  We also believe that the Daniel family owned plantations and slaves on other islands, so after the abolition of  slavery, they received compensation from the British, for the loss of their slaves.
The Daniels were shipping merchants from England.  They owned ships that traveled from the West Indies taking the sugar from their plantations to England.
In 1896, Alistair Cameron, a Scotsman, came to the island to work with Mr. Daniel. Alistair purchased Sunbury Plantation and married Daniel's niece, Laura Sussanah Roope. Alistair and Laura had five children - four daughters and one son. Their son died at an early age in the 1930's. There were no offspring of the Cameron girls, two of them remaining spinsters until their deaths in 1980 and 1981.
The main Sunbury House was separated from the estate and sold to Keith & Angela Melville with the rest sold to Mr. Geoffrey Armstrong.
The Melvilles both keen horse lovers, had started their horse drawn collection many years ago. What began as a hobby grew into a most comprehensive collection of antiques and artifacts of a bygone era.
The main building features a water catchment situated on the west side of the house, dated to 1788 suggesting that this was the date that the roof was replaced following damage in the 1780 hurricanes.
The Barbados National Trust has designated the building a Heritage House.  It has been open for tours since 1984.
The house suffered a disastrous fire on July 24th 1995. The furniture that was destroyed by the fire was replaced by part of the Harold Bowen collection as well as with many items made available for purchase by numerous Barbadian families.
Visit  Sunbury Plantation House