Graeme Hall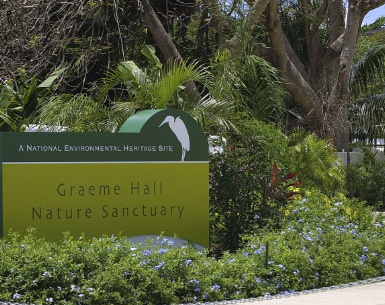 The Graeme Hall swamp, Worthing, Christ Church was once part of a 373 acre plantation estate partially owned by the Kirton family in the 1600's. Owen Graeme occupied a section of the land at this time and upon his death in 1661, his portion was left to Evan Graeme.
By the early 1920s there were 311 acres owned by Edwin Clarke. It changed hands a few times in the ensuing years. It is now being used by the Ministry of Agriculture.
The Graeme Hall Nature Sanctuary as it is now called, was added to RAMSAR's list in 2005. "The Convention on Wetlands (Ramsar, Iran, 1971) -- called the "Ramsar Convention" -- is an intergovernmental treaty that embodies the commitments of its member countries to maintain the ecological character of their Wetlands of International Importance and to plan for the "wise use," or sustainable use, of all of the wetlands in their territories".
Graeme Hall is an ecological, educational, research, tourism facility for all to use and enjoy!
UPDATE August 2013: The park is now open! December 2008, the park closed. Please help save the park by going to Graeme Hall National Park.
Sources: RAMSAR, The Graeme Hall Nature Sanctuary.