Pollards Mill House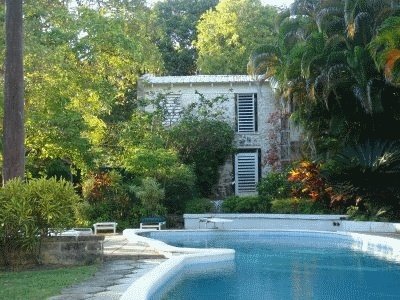 Pollards Mill in St. Philip, was once a sugar estate in the 1700s, it then became a hotel restaurant.  It has been restored into a single family home.
Set within two totally private and peaceful acres of tropical walled gardens it is surrounded on all sides by sugar cane fields with idyllic views down to the sea. Whilst being totally secluded, Crane beach and shops are only ten minutes away.
There are six bedrooms and four bathrooms. All rooms have ceiling or floor fans. The home has been equipped with modern conveniences - TV, DVD, iPod player and wireless internet.
The kitchen has a double stove oven combination, restaurant 'fridge, icemaker, microwave and dishwasher.
There is a 50 foot pool with an outdoor shower, mini gym, huge trampoline, ping pong table and gas BBQ.
The home comes with a full time housekeeper and gardener who keeps the outside tidy and will pick you mango and shaddock when in season. A cook can be arranged if required.
The home has also been on the Open House Programme for Barbados National Trust.
Contact:  Pollards Mill House